so i made this simple 3D game from jmonkey3 tutorial, and i just learn about java socket recently. i understand how the client, and server works, how they send data using string type in chat application. but i dont know how to implement server client to this game. i dont know how do i send the data to the server(how to get the coordinate, since other simple 2d java network game that i've come across send coordinate x,y), what to update, and other thing like what should the server handle(rules?)...
about the multiplayer game that i had in mind:
basically 2 players shoot the ball(each player have one ball), into the middle of the spiral thing model.... as simple as that, no counting for score, no timer, coz i just want the network part to work 1st, others can add later.....
hope u guys can guide me.
heres the pic for better picture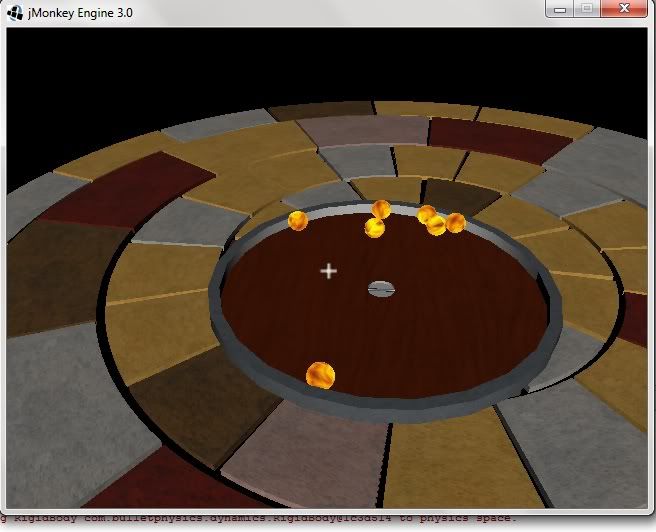 the code
1
2
3
4
5
6
7
8
9
10
11
12
13
14
15
16
17
18
19
20
21
22
23
24
25
26
27
28
29
30
31
32
33
34
35
36
37
38
39
40
41
42
43
44
45
46
47
48
49
50
51
52
53
54
55
56
57
58
59
60
61
62
63
64
65
66
67
68
69
70
71
72
73
74
75
76
77
78
79
80
81
82
83
84
85
86
87
88
89
90
91
92
93
94
95
96
97
98
99
100
101
102
103
104
105
106
107
108
109
110
111
112
113
114
115
116
117
118
119
120
121
122
123
124
125
126
127
128
129
130
131
132
133
134
135
136
137
138
139
140
141
142
143
144
145
146
147
148
149
150
151
152
153
154
155
156
157
158
159
160
161
162
163
164
165
166
167
168
169
170
171
172
173
174
175
176
177
178
179
180
181
182
183
184
185
186
187
188
189
190
191
192
193
194


/*
 * To change this template, choose Tools | Templates
 * and open the template in the editor.
 */


package

 

jme3test

.

guligames_package

;
 


import

 

com

.

jme3

.

app

.

SimpleApplication

;


import

 

com

.

jme3

.

asset

.

TextureKey

;


import

 

com

.

jme3

.

bullet

.

BulletAppState

;


//import com.jme3.bullet.collision.shapes.CapsuleCollisionShape;




import

 

com

.

jme3

.

bullet

.

collision

.

shapes

.

CollisionShape

;


import

 

com

.

jme3

.

bullet

.

control

.

RigidBodyControl

;


import

 

com

.

jme3

.

bullet

.

util

.

CollisionShapeFactory

;


import

 

com

.

jme3

.

font

.

BitmapText

;


import

 

com

.

jme3

.

input

.

MouseInput

;


//import com.jme3.input.controls.ActionListener;




import

 

com

.

jme3

.

input

.

controls

.

MouseButtonTrigger

;


import

 

com

.

jme3

.

material

.

Material

;


//import com.jme3.math.Vector2f;




import

 

com

.

jme3

.

scene

.

Geometry

;


//import com.jme3.scene.shape.Box;




import

 

com

.

jme3

.

scene

.

shape

.

Sphere

;


import

 

com

.

jme3

.

scene

.

shape

.

Sphere

.

TextureMode

;


import

 

com

.

jme3

.

texture

.

Texture

;


//import com.jme3.texture.Texture.WrapMode;





//import com.jme3.animation.AnimChannel;




//import com.jme3.animation.AnimControl;




//import com.jme3.animation.AnimEventListener;




//import com.jme3.animation.LoopMode;




//import com.jme3.input.KeyInput;




import

 

com

.

jme3

.

input

.

controls

.

ActionListener

;


//import com.jme3.input.controls.KeyTrigger;




import

 

com

.

jme3

.

light

.

DirectionalLight

;


import

 

com

.

jme3

.

math

.

ColorRGBA

;


import

 

com

.

jme3

.

math

.

Vector3f

;


import

 

com

.

jme3

.

scene

.

Spatial

;


import

 

com

.

jme3

.

scene

.

Node

;
/**
 * Example 12 - how to give objects physical properties so they bounce and fall.
 * @author base code by double1984, updated by zathras
 */

/**
 *
 * @author NURAINI
 */


public

 

class

 

guligames

 

extends

 

SimpleApplication

{
  

/** Prepare the Physics Application State (jBullet) */


  

private

 

BulletAppState

 

bulletAppState

;
  

private

 

RigidBodyControl

 

landscape

;
  

private

 

RigidBodyControl

 

guliColli

;
  

private

 

Spatial

 

gulicourt

;
  

private

 

Spatial

 

guli

;
  
  

public

 

static

 

void

 

main

(

String

 

args

[]) {
    

guligames

 

app

 = 

new

 

guligames

();
    

app

.

start

();
  }
  
  

/** Prepare Materials */


  

Material

 

ball_mat

;
 
  

/** Prepare geometries and physical nodes for bricks and cannon balls. */


  

private

 

RigidBodyControl

    

ball_phy

;
  

private

 

static

 

final

 

Sphere

 

sphere

;
 
  

static

 {
    

/** Initialize the cannon ball geometry */


    

sphere

 = 

new

 

Sphere

(

16

, 

16

, 

0.2f

, 

true

, 

false

);
    

sphere

.

setTextureMode

(

TextureMode

.

Projected

);
  }
 
  

@Override


  

public

 

void

 

simpleInitApp

() {
    

// We re-use the flyby camera for rotation, while positioning is handled by physics


    

viewPort

.

setBackgroundColor

(

new

 

ColorRGBA

(

0f

, 

0f

, 

0f

, 

1f

));
    
    

/** Set up Physics Game */


    

bulletAppState

 = 

new

 

BulletAppState

();
    

stateManager

.

attach

(

bulletAppState

);
    

//bulletAppState.getPhysicsSpace().enableDebug(assetManager);



    
    

// Display a line of text with a default font


        

guiNode

.

detachAllChildren

();
        

guiFont

 = 

assetManager

.

loadFont

(

"Interface/Fonts/Default.fnt"

);
        

BitmapText

 

helloText

 = 

new

 

BitmapText

(

guiFont

, 

false

);
        

helloText

.

setSize

(

guiFont

.

getCharSet

().

getRenderedSize

());
        

helloText

.

setText

(

"Soccer Game"

);
        

helloText

.

setLocalTranslation

(

300

, 

helloText

.

getLineHeight

(), 

0

);
        

guiNode

.

attachChild

(

helloText

);
    
    

// Load a model from test_data (OgreXML + material + texture)


        

gulicourt

 = 

assetManager

.

loadModel

(

"Models/guliplace/guliplace.mesh.xml"

);
        

//Spatial fieldsoccer = assetManager.loadModel("Models/field/field.mesh.xml");        


        

gulicourt

.

scale

(

4.0f

, 

4.0f

, 

4.0f

);
        

//ninja.rotate(-4.0f, -3.0f, 0.0f);


        

//fieldsoccer.setLocalScale(1f);


        

gulicourt

.

setLocalTranslation

(

2.0f

, -

0.5f

, -

2.0f

);
    
    

// We set up collision detection for the scene by creating a


    

// compound collision shape and a static RigidBodyControl with mass zero.


    

CollisionShape

 

sceneShape

 =
            

CollisionShapeFactory

.

createMeshShape

((

Node

) 

gulicourt

);
    

landscape

 = 

new

 

RigidBodyControl

(

sceneShape

, 

0

);
    

gulicourt

.

addControl

(

landscape

);
    

bulletAppState

.

getPhysicsSpace

().

add

(

landscape

);
    

rootNode

.

attachChild

(

gulicourt

);
    
    

// Load a model from test_data (OgreXML + material + texture)


        

guli

 = 

assetManager

.

loadModel

(

"Models/gelung2/gelung2.mesh.xml"

);
        

//Spatial fieldsoccer = assetManager.loadModel("Models/field/field.mesh.xml");        


        

guli

.

scale

(

4.0f

, 

4.0f

, 

4.0f

);
        

//guli.rotate(0.0f, 1.5f, 0.0f);


        

//fieldsoccer.setLocalScale(1f);


        

guli

.

setLocalTranslation

(

1.5f

, 

0.1f

, -

0.1f

);
        

CollisionShape

 

keeperShape

 =
            

CollisionShapeFactory

.

createMeshShape

((

Node

) 

guli

);
        

guliColli

 = 

new

 

RigidBodyControl

(

keeperShape

, 

0

);
        

guli

.

addControl

(

guliColli

);
        

bulletAppState

.

getPhysicsSpace

().

add

(

guliColli

);
        

rootNode

.

attachChild

(

guli

);
                
        

// You must add a light to make the model visible


        

DirectionalLight

 

sun

 = 

new

 

DirectionalLight

();
        

sun

.

setDirection

(

new

 

Vector3f

(-

0.1f

, -

0.7f

, -

1.0f

));
        

rootNode

.

addLight

(

sun

);
            
    

/** Configure cam to look at scene */


    

cam

.

setLocation

(

new

 

Vector3f

(

2f

, 

6f

, 

8f

));
    

cam

.

lookAt

(

new

 

Vector3f

(

1

, 

1

, 

0

), 

Vector3f

.

UNIT_Y

);
    

/** Add InputManager action: Left click triggers shooting. */


    

inputManager

.

addMapping

(

"shoot"

, 
            

new

 

MouseButtonTrigger

(

MouseInput

.

BUTTON_LEFT

));
    

inputManager

.

addListener

(

actionListener

, 

"shoot"

);
    

/** Initialize the scene, materials, and physics space */


    

initMaterials

();
    

initCrossHairs

();
  }
  
  /**
   * Every time the shoot action is triggered, a new cannon ball is produced.
   * The ball is set up to fly from the camera position in the camera direction.
   */
  

private

 

ActionListener

 

actionListener

 = 

new

 

ActionListener

() {
    

public

 

void

 

onAction

(

String

 

name

, 

boolean

 

keyPressed

, 

float

 

tpf

) {
      

if

 (

name

.

equals

(

"shoot"

) && !

keyPressed

) {
        

makeCannonBall

();
      }
    }
  };
 
  

/** Initialize the materials used in this scene. */


  

public

 

void

 

initMaterials

() { 
    

ball_mat

 = 

new

 

Material

(

assetManager

, 

"Common/MatDefs/Misc/Unshaded.j3md"

);
    

TextureKey

 

key2

 = 

new

 

TextureKey

(

"Models/guli/yellow.jpg"

);
    

key2

.

setGenerateMips

(

true

);
    

Texture

 

tex2

 = 

assetManager

.

loadTexture

(

key2

);
    

ball_mat

.

setTexture

(

"ColorMap"

, 

tex2

);
  }
 
  /** This method creates one individual physical cannon ball.
   * By defaul, the ball is accelerated and flies
   * from the camera position in the camera direction.*/
   

public

 

void

 

makeCannonBall

() {
    

/** Create a cannon ball geometry and attach to scene graph. */


    

Geometry

 

ball_geo

 = 

new

 

Geometry

(

"cannon ball"

, 

sphere

);
    

ball_geo

.

setMaterial

(

ball_mat

);
    

rootNode

.

attachChild

(

ball_geo

);
    

/** Position the cannon ball  */


    

ball_geo

.

setLocalTranslation

(

cam

.

getLocation

());
    

/** Make the ball physcial with a mass > 0.0f */


    

ball_phy

 = 

new

 

RigidBodyControl

(

1f

);
    

/** Add physical ball to physics space. */


    

ball_geo

.

addControl

(

ball_phy

);
    

bulletAppState

.

getPhysicsSpace

().

add

(

ball_phy

);
    

/** Accelerate the physcial ball to shoot it. */


    

ball_phy

.

setLinearVelocity

(

cam

.

getDirection

().

mult

(

18

));
  }
 
  

/** A plus sign used as crosshairs to help the player with aiming.*/


  

protected

 

void

 

initCrossHairs

() {
    

guiNode

.

detachAllChildren

();
    

guiFont

 = 

assetManager

.

loadFont

(

"Interface/Fonts/Default.fnt"

);
    

BitmapText

 

ch

 = 

new

 

BitmapText

(

guiFont

, 

false

);
    

ch

.

setSize

(

guiFont

.

getCharSet

().

getRenderedSize

() * 

2

);
    

ch

.

setText

(

"+"

);        

// fake crosshairs :)


    

ch

.

setLocalTranslation

( 

// center


      

settings

.

getWidth

() / 

2

 - 

guiFont

.

getCharSet

().

getRenderedSize

() / 

3

 * 

2

,
      

settings

.

getHeight

() / 

2

 + 

ch

.

getLineHeight

() / 

2

, 

0

);
    

guiNode

.

attachChild

(

ch

);
  }
}